Doug Wilson, the GM for the Sharks, fired Ron Wilson, Coach of the Sharks, today. They also said they will begin a search for a new head coach immediately. This does not come to a surprise to me seeing that only 5 days ago Ron Wilson was quoted on TSN.ca saying "That's all irrelevant. You look at my record, it's second to none, literally, in the sport, so I'm not even worried about that," when asked about his job security. This decision was made many months ago by Doug, the Board and Ron himself … and I can prove it by the last paragraph in the story on TSN. Doug Wilson was quoted as saying "People will tell you we've accomplished some really good things the last three or four years, and that's wonderful. The disappointment is we haven't accomplished what's ultimately our goal, and we're not going to stop. We're going to push through, and decisions will be made when they get made."

According to NHL.com:


"Ron helped foster a new era in San Jose Sharks hockey with some record-setting regular season performances," said Doug Wilson. "However, ultimately we have decided that it is time for a different voice and a different approach to lead this team. We are proud of what we've accomplished as an organization but we feel that this team is capable of achieving greater success. I want to thank Ron for his level of commitment and desire to make our organization successful. Our entire organization wishes him well."

The 2007-08 Pacific Division-champion Sharks were eliminated from the Stanley Cup Playoffs with a four-games-to-two series loss to the Dallas Stars in the Western Conference Semifinals.

Wilson, named the sixth head coach in franchise history on Dec. 4, 2002, leaves the Sharks as the team's all-time coaching leader in wins (206) and winning percentage (.535), and postseason games coached (52). In four-plus seasons, the Windsor, Ontario native posted a 206-134-45 regular season record and a .535 winning percentage in 385 games with the Sharks. During his tenure, the team won two Pacific Division Championships (2004, 2008).

Wilson also leaves as the franchise leader in post-season games, posting a 28-24 mark in 52 Stanley Cup Playoff games. He led the team to a berth in the Western Conference Finals in 2004 and to the Western Conference Semifinals in 2006, 2007 and 2008.

Wilson reached several milestones while serving behind the Sharks bench, including his 1000th game as an NHL coach on March 18, 2007 at Colorado, his 500th NHL win on Feb. 9, 2008 vs. Nashville. He notched his 200th win as Sharks coach on March 18, 2008 at Los Angeles and surpassed Darryl Sutter for the franchise all-time wins list on March 1 at St. Louis.

Here is a quick snapshot of Ron Wilsons accomplishments as the Coach for the Sharks: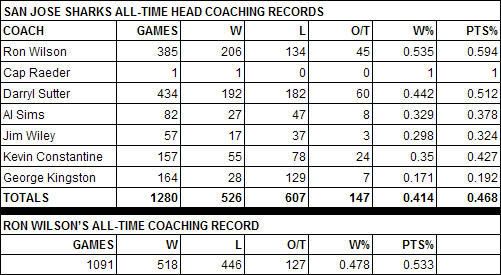 There is a good pool of candidates for Doug Wilson to contact over the next couple weeks. Two that come to mind are Joel
Quenneville
from the Avalanche and Paul Maurice from Toronto are both holding their "Will Coach For A Cup" signs. Since Toronto has all but laid their cards out on the table, it appears the San Jose Sharks will have plenty of interviews starting to line up – I mean, who
wouldn
't want to coach the Sharks. They are the most consistent team in the NHL. Over his career Wilson has coached the San Jose Sharks, Washington Capitals and Anaheim Ducks, compiling a record of 518-446-127 over his 1,091 games. He coached the Capitals to the Stanley Cup Final during the 1997-98 season but Washington was swept by the Detroit Red Wings.